Juno Reactor
Juno Reactor is an electronic psytrance group, often known for its world fusion influences and consisting of Ben Watkins and Mike Macguire. At one time or another, Juno Reactor also included Johann Bley, stephen holweck and Jens Waldenback.
Juno Reactor was formed in 1990 by Ben Watkins and Stephen Holweck. The group came together as an experimental ambient project in order to record an accompanying soundtrack to sculpture artist [ and Watkins' girlfriend ] Norma Fletcher's art installation and performance piece called " The Missile Project ".
The centerpiece of the project was a 70-foot decommissioned missile, nicknamed " Juno Reactor " which the band rolled around London while playing its music to raise awareness about nuclear war. According to Watkins, was blue concrete. And it looked like a dinosaur tail. And a smoke came out of it.
The project took over a month to complete; however, the exhibition lasted only several hours, as London police arrived, breaking up the display and arresting all members of the project. The music was eventually released as Juno Reactor's second album, Luciana.
In 1993 Juno Reactor released its first single " Laughing Gas " on NovaMute. The single was soon followed by their debut album, Transmissions. The album, reckoned a huge success, is considered one of the first albums in the Goa Trance genre.
Later the band released Luciana on Alex Paterson's (The Orb) Inter-Modo label. Juno Reactor left NovaMute and Inter-Modo in 1995 and signed to UK's Blue Room Released label for the Guardian Angel single. Their album Beyond the Infinite followed in 1996.
~~~~~~~~ ( Juno Reactor… Quite a band I must say. I received a whole bunch of his albums and I literally listened to everyone. Well almost every single one.
Out of the whole lot, the one's posted here are to my opinion the best titles ever " made by Juno Reactor ".
The others are good too [make no mistake ] but they won't fit amongst what we usually post / listen. Far too industrial, too trance / psy-trance and club tunes but very entertaining at the same time.
" Luciana " on the other end is THE EXTREME DRONE side of J Reactor ~ " Brave Story " is simply exquisite Theatrical symphony. This 2 particular titles should not be miss or ignored at any cost. [ MySpace ] | [ Last.fm ] ). ~~~~~~~~
Artist – Juno Reactor
Album – Luciana
Release Date – 1994
Genre – Instrumental, Drone, Electro, Drone-electro, Dark-ambient [ VERY GOOD. GET IT ]
Tracklist
01 – Luciana [ 01h:01mins ]
——————————————————————————————————————————————————
Juno Reactor – Luciana
——————————————————————————————————————————————————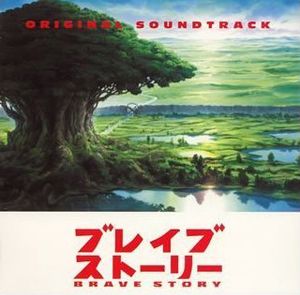 Artist – Ben Watkins [ AKA Juno Reactor ]
Album – Brave Story [ OST ]
Release Date – 2006
Genre – OST, Theatrical, Mod-classical, Orchestral [ VERY GOOD ]
Tracklist
01 Mitsuru Theme 0:15
02 Main Door 0:48
03 Mitsuru Theme 2 0:35
04 Vision Door 2:15
05 Chamber Of Four Guardians 3:22
06 Bond Between Mother And Child 2:11
07 To School 0:31
08 Barbarrone Incantation 0:48
09 Kee Keema 1:27
10 Hare And Heather Part 1 1:21
11 Hare And Heather Part 2 2:46
12 Aerial Ballet 0:50
13 Highlander 0:47
14 Break Out Of Prison 0:43
15 Demon Of Subterranean Lake 1:53
16 To The City Of Ice 2:33
17 True Intentions 4:35
18 Sound Of Approaching War 0:30
19 Highlander Battle 1:16
20 Juno Waltz 1:37
21 A Wish For Each Other 1:58
22 Fire Dragons 1:16
23 Solebria 3:48
24 Mitsuru's Recollection 1:26
25 Archibald McDonald Of Keppoch 1:03
26 Demons Versus Dragons 0:48
27 Cry Of The Heart 1:32
28 Because He Is A Friend 3:01
29 Sweet Whisper 4:47
30 Vision 5:12
31 The Star Of County Down
——————————————————————————————————————————————————
Juno Reactor – Brave Story
——————————————————————————————————————————————————
Recommendations: Haibane Renmei | A Dirty Carnival | John Murphy | Masumi Ito | Clint Mansell
——————————————————————————————————————————————————
EXCELLENT Daan… The other's are good too but not for TSS
——————————————————————————————————————————————————
This entry was posted on Friday, April 30th, 2010 at 9:09 am and is filed under Uncategorized. You can follow any responses to this entry through the RSS 2.0 feed. You can leave a response, or trackback from your own site.